Gowing Bar & Grill, QT Sydney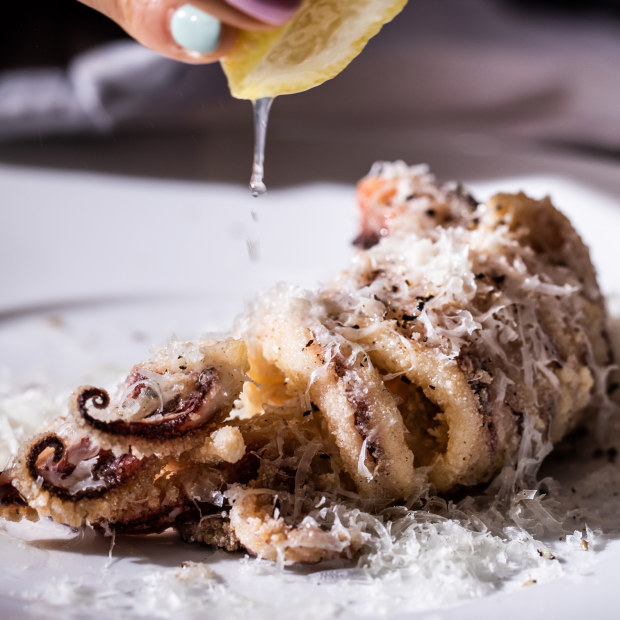 Veteran chef Sean Connolly didn't land the top job at Gowings just for his way with the wood-fired oven. As "Creative Culinary Director", he had a say in every aspect of the dark and glamorous revamp of QT's signature restaurant. This ranges from the choice of works to the design of the room, including the energetic playlist (Echo & the Bunnymen meet the early Rolling Stones) and the change in style from the European brasserie to the retro Italian steakhouse in New York.
Oh, and then there's his food which, in tune with the space, is visually arresting. As you'd expect from someone whose other job is the culinary ambassador of the Sydney Fish Market, it's also rich in seafood (don't miss the succulent island scallop of Abrolhos with garlic and parsley butter). Pasta is handmade, grass-fed Delmonico steaks are carved table-side, and there's dreamy pistachio gelato to close.
QT's first regional hotel, QT Newcastle, will open early next month with Jana, a modern Australian bar and grill run by chef Massimo Speroni (ex Bacchus in Brisbane) and QT Rooftop, a Japanese whiskey-themed bar.
The Portico, Pier One, Sydney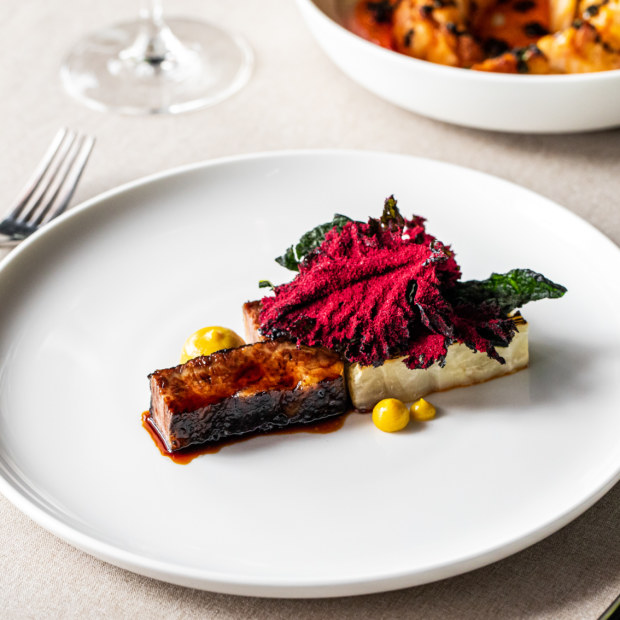 It was the dish that stopped the chatter from the table. We're halfway through new chef Rhys Connell's preview menu at the Gantry when he arrives: a black earthenware bowl filled with pretty snow-white flakes of… something. You plunge your fork to discover the layers, first of crispy cauliflower furls, then seared abalone, then rich cauliflower risotto, all finished with a dusting of smoked chicken skin salt.
Connell, who was trained by Martin Benn at Sydney's Sepia, was briefly in charge of Melbourne's Society. But his arrival at Pier One heralds a new level of creativity for the chef through a menu rich in luxury ingredients. Southern lobster is served with gem lettuce and Marie Rose sauce for homemade bau san choy; big fingers of Blackmore Wagyu are grilled with miso mustard and served with crispy red cabbage.
From next month, Connell will also have creative input into the restaurant's redesign, timed to coincide with the Port Hotel's four-month closure for essential restoration work.
ELE, the star of Sydney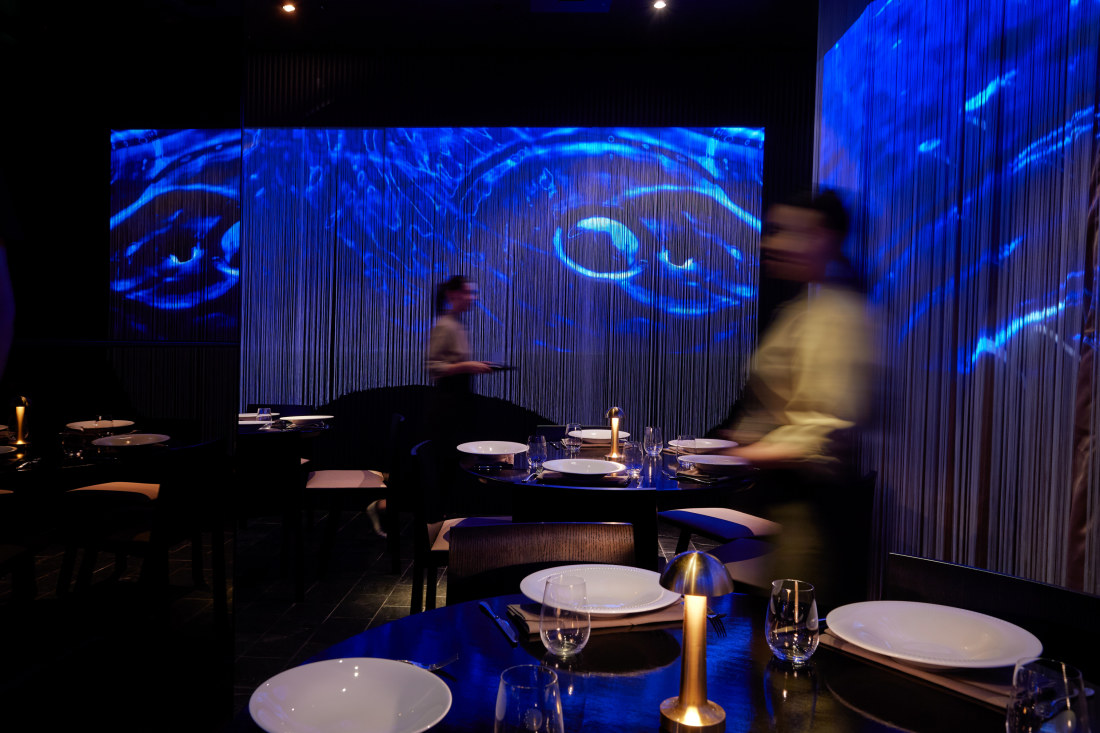 First up was Crown Sydney with fine dining restaurant Oncore, from British three-star Michelin chef Clare Smyth. Now Star has joined the fray, upping the ante for hotel-casino restaurants with the just-opened ELE. It's an ambitious and truly 'immersive' project by acclaimed chefs Federico Zanellato (LuMi Dining) and Karl Firla (of Oscillate Wildly fame) that brings projected art and curated sounds into the dining experience. Expect dishes such as Dry-Aged Murray Cod with Roasted Bone Sauce, Potatoes with Pearl Meat and a Toasted Grain Parfait as you move through three different spaces during the evening. All very progressive, in more ways than one.
queensland
Citric, JW Marriott, Gold Coast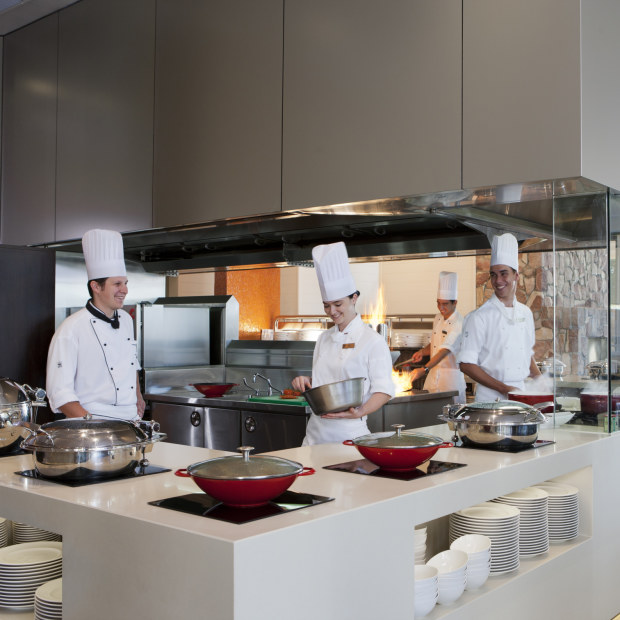 Considering it was upgraded in December 2020 as part of a $35 million hotel-wide renovation, it's no surprise that this sprawling, gleaming downstairs restaurant has looks brand new. Much is said about the "interactive seafood market" (aka buffet) in Citrique. But for those looking for more meaningful power, the card is the answer. All qualms about the grand hotel menu (truffle oil, begone) vanish at the first taste of "Bay Bug dumplings", three Moreton Bay bugs with assorted dumplings in a pool of deeply delicious seafood bisque (the all for $25, watch out). And then there's Patagonian toothfish, perfectly cooked with wood-fired cauliflower, dukkah crumble and miso sauce. You may arrive skeptical, but you will leave well nourished.
Victoria
Audrey's, The Continental Sorrento, Melbourne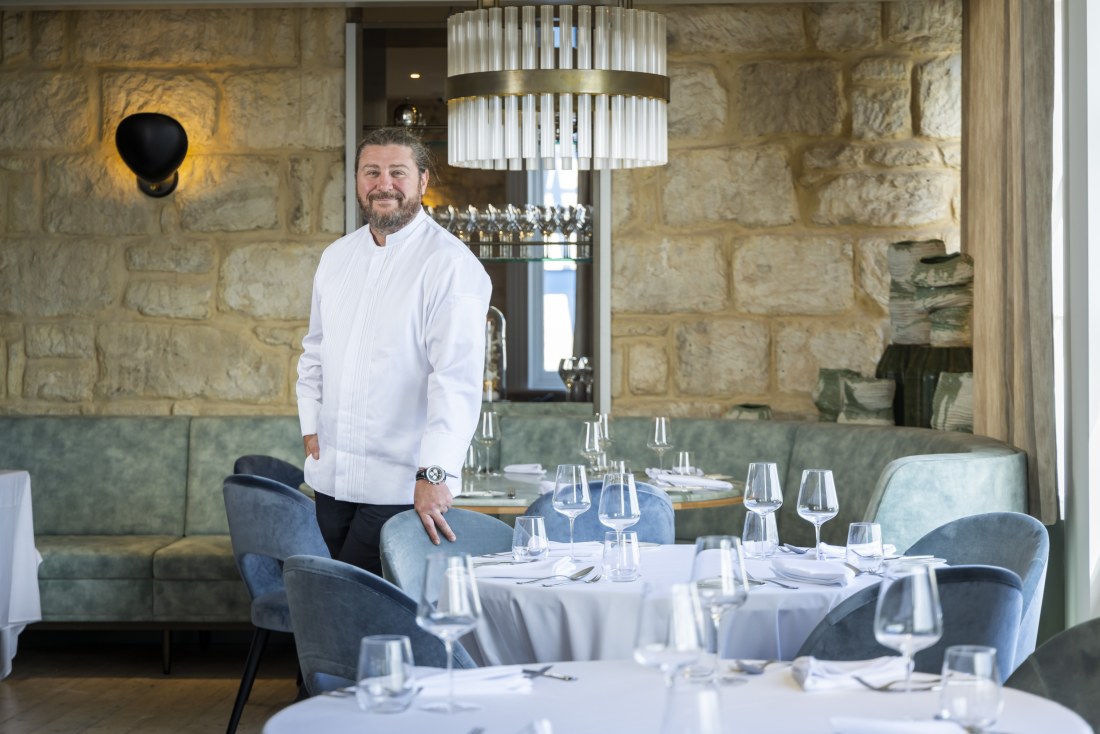 Scott Pickett already has a new hit on his hands with the launch earlier this year of Smith St Bistro in Melbourne's Collingwood. Can the prolific chef and restaurateur do it again at Audrey's, his upscale dining room at the iconic seaside hotel The Continental, recently reopened after a two-year, $120 million renovation? One of many new dining and dining venues at the heritage-listed resort, Audrey's is Pickett's most personal restaurant to date, inspired both by childhood memories of fishing with his grandmother and by luxury seafood that's increasingly hard to come by: think barbecued abalone with bonito and King George whiting with caviar, in a lovely bright room with well-spaced tables and plush banquettes.
Miss Mi, Mövenpick, Melbourne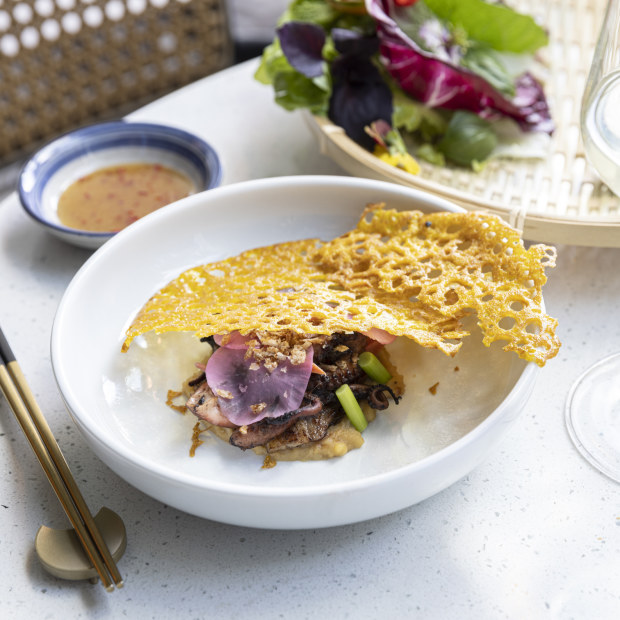 Iga panggang lamb chops with rica-rica Sulawesi sauce; Timorese barramundi ikan pepes with stone fruits and ai manas. Not the kind of food you'd expect to find in a rather nondescript hotel dining room at Melbourne's commercial end of Bourke Street: the odd Miss Mi could so easily have been a misfit. Instead, it's a joy, thanks to Malaysian-born chef Esca Khoo, who takes a refreshing neo-Australian approach to Southeast Asian cooking traditions. "It's time to evolve," he says of a menu that plays with classics from Bali and Thailand to the Philippines and beyond. "My message is, it's OK to be different." Or maybe, when your food is this good, the wine list affordable, and the service warm and professional, it's even better than OK.
Coming soon
Four, Ace Hotel, Sydney
A trendy hotel group needs a trendy restaurant concept. US-based Ace Hotel's Ace Card is set to open late next month for its Surry Hills launch. Kiln is a wood-fired rooftop restaurant and bar run by acclaimed chef Mitch Orr and designed by Melbourne's Fiona Lynch. A second restaurant, Loam, with drinks curated by Sydney's hip wine authority Mike Bennie, will open on the hotel's ground floor this month.
Warabi, W Hotel, Melbourne
What, you might be wondering, is a kappo-style omakase restaurant? We're not sure either. But we do know that Warabi offers a multi-course luxury procession, prepared in front of you by your "Japanese specialty chef" in a 37-seat dining room at Melbourne's trendy W Hotel.
InterContinental, Sydney
Between the opening of a new restaurant (Cucina Povera, Melbourne) and the temporary closure of an existing restaurant (Icebergs Sydney), restaurateur Maurice Terzini lends his expertise in food, drink and design to an overhaul of the InterContinental in Double Bay. Lead the charge? The relaunch of the hotel's first floor bar, scheduled for the end of next month.
Park Hyatt, Sydney
It's a coup. One of Sydney's most iconic hotels (yes, really) has attracted one of Sydney's most admired chefs in James Viles (ex-Biota, Wolgan Valley Estate). His brief? Renovating "dining experiences" at the glittering harborside property, led by The Dining Room. It is scheduled for a relaunch at the end of this year; we expect great things.