WEBSTER GROVES — Webster University will open a new college of health sciences in June in hopes of doubling enrollment in health science programs over the next five years.
It's a radical departure from the university's former focus on the arts.
"The time has come for another technological revolution," said Julian Schuster, president of the university. "Cybersecurity, health, science – not just creating service professions, but doing it for the good of the community – for the continuing and compelling unmet need."
Webster is among several area schools that have expanded nursing and health science programs to meet a growing need for medical personnel. With an aging population and a crippling pandemic, health and science graduates are in high demand.
For more than two years, the COVID-19 pandemic has revealed both the importance of nurses and the pressure placed on healthcare personnel. Hospitals and long-term care centers have been so understaffed lately that they have had to delay or cancel procedures.
A national labor shortage existed in the healthcare sector even before the pandemic. But COVID-19 has put the system under such unusual stress that it's hard to say for sure how many new nurses the country needs, academic experts say.
The pandemic has clouded the forecast by increasing demand for nurses in key roles, such as intensive care units and emergency rooms, while simultaneously driving out burnt-out nurses, seeking higher pay, unable to find jobs. child care or unwilling to get vaccinated, according to Peter Buerhaus of the Center for Interdisciplinary Health Workforce Studies at Montana State University.
"We're kind of in a volatile time right now," Buerhaus said. It is possible that some nurses who resigned during the pandemic will return, he said, or that demand for services will return to pre-pandemic levels.
But local nursing schools have not seen a drop in applications or enrollment during the pandemic.
COVID-19 has made young people more aware of nursing as a career path, said Danny Willis, dean of the St. Louis University school of nursing.
"Nursing is at the forefront of people's consciousness in a way that perhaps it wasn't before," Willis said. "I think, if anything, COVID has increased the visibility of work."
More and more people are also aware of the difficulty of nursing, he said, adding: "Nursing is not for the weak.
A shortage of instructors
Solving the supply problem is not as easy as directing more students to healthcare majors. Nationally, nursing programs rejected more than 90,000 qualified applications in 2021 because they ran out of room for other students, according to the American Association of Colleges of Nursing.
Nursing programs also require practical training, including supervised internships in hospitals, clinics, and other health care facilities.
"Expanding a nursing program is no easy task," said Donna Meyer, CEO of the California Organization for Associate Degrees in Nursing.
In her former position as dean of health sciences at Lewis and Clark Community College in Godfrey, Meyer said, she expanded the nursing program from 93 to 300 students by 2015. But it took a big investment. "We built a brand new building; we got resources to hire learning specialists, have a simulation lab, hire more teachers," she recalls.
Southern Illinois University Carbondale successfully added a nursing program in fall 2020 that will eventually enroll up to 300 students.
Another challenge related to the expansion of nursing schools is the shortage of instructors. About 8% of faculty positions in 935 nursing programs nationwide were vacant in the 2021-2022 academic year, according to the American Association of Colleges of Nursing, a Washington-based advocacy group.
Nursing program accreditors typically require faculty to have at least a master's degree, but these highly skilled nurses can earn far more in a clinical setting than they can teach.
Pamela Franklin has been a nurse for 32 years and is working on a master's degree at Webster University to become a full-time educator. Through a partnership with the Missouri Hospital Association, students like Franklin can teach at St. Louis Community College and other nursing schools while they graduate.
"Obviously there's a shortage of nurses, but without enough instructors, we won't be able to train new RNs," Franklin said.
Healthcare companies nationwide are increasingly partnering with colleges to address labor shortages through tuition incentives, paid internships, and other initiatives. Federal pandemic relief funds have also been targeted to attract more medical students.
New facilities, expanding programs
In a recent course at Webster University, doctoral students in nursing anesthesia learned how to use ultrasound to assess trauma patients. The simulated patient appeared on an interactive touch screen where Assistant Professor Nicholas Curdt manipulated the image to peel back layers of skin and muscle to examine injured organs.
The new Webster College of Science and Health will hold classes in the high-tech Browning Hall, which opened in 2017, for graduate programs such as nursing anesthesia and undergraduate programs including nursing and exercise science.
By 2027, university leaders aim to enroll 1,750 people in health sciences fields, more than a third of the university's 5,000 students in St. Louis.
St. Louis Community College grew to 557 nursing students this semester, up from 463 students in 2020. The Respiratory Therapy, Surgical Technology, and Ultrasound programs saw double-digit increases in enrollment rates.
"I think what we're seeing here is that the pandemic has shed light on the opportunities that are available in health care," said William Hubble, district dean of academic affairs and health sciences at middle School. "People are looking for ways to get into the profession, and community college is a very affordable way to do that."
The average age of college nursing students is 28 or 29, Hubble said.
"The majority are people who are already working in other industries and are looking for an opportunity to advance," Hubble said. "St. Louis Community College is a major supplier of employees to our area hospitals.
The college opened a new nursing and health sciences building on its Forest Park campus in 2019, in part to attract more students to medical professions. Similar buildings are slated to open at the Florissant Valley campus in 2024 and in Wildwood a few years later.
"We are doing what we can to increase capacity," he said. "We need people in the health professions."
The Associated Press contributed to this report.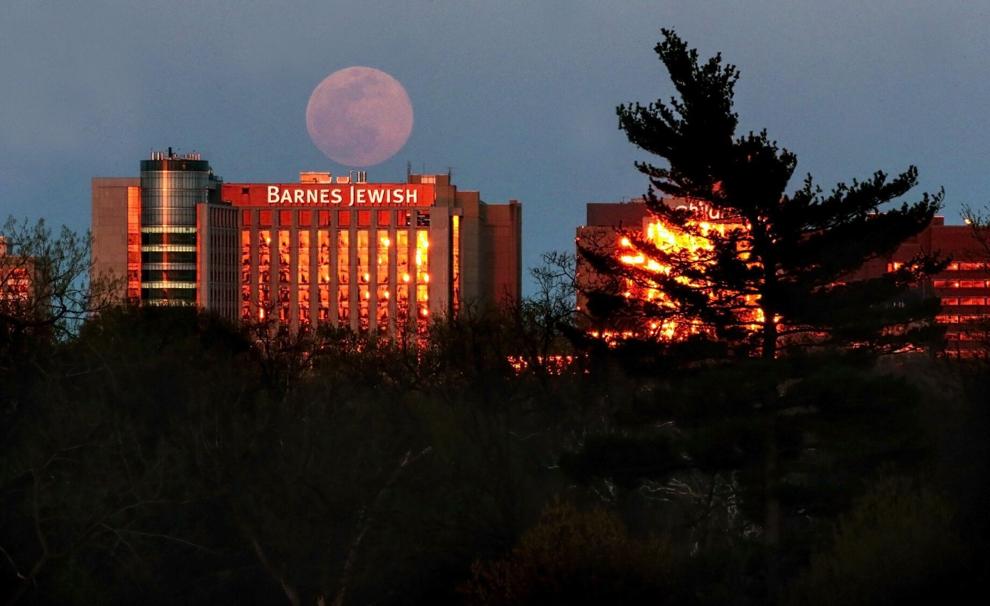 The medical ICU on the 8th floor of Central West End Hospital was the first COVID ward at the state's busiest hospital.