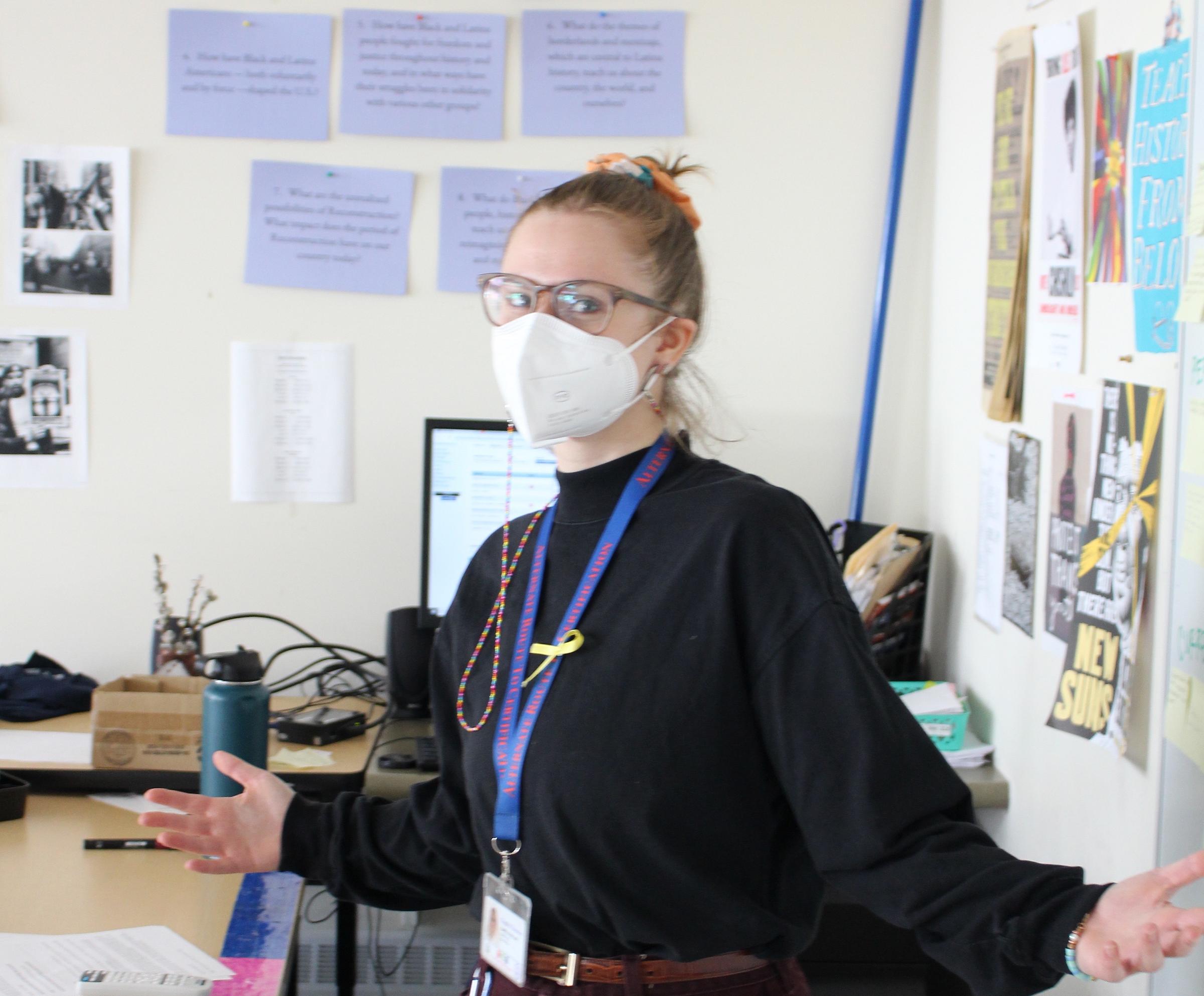 (Opinion) Teacher departures are on the rise across the country and the summer will bring even more quits. With many New Haven teachers leaving the profession altogether or leaving our district after being recruited by better paid teachers, the call for ​"stepping up retention efforts" is important. Yet this focus should be coupled with efforts to recruit future educators who already live in New Haven. We need creative solutions to overcome the barriers that keep New Haveners from entering the teaching profession.
New Haven needs a community teacher preparation program to create an accessible path to certification for New Haven residents, especially current ones. SNPS paraprofessionals, aides and substitutes. This program, rooted in SNPSwould meet the needs of teacher candidates and our district.
As a former SNPS a student and current substitute teacher completing my certification, I know the challenges of becoming a teacher. I paid more than $4,000 for a certification program that consumed my evenings and weekends, required me to spend more than eight weeks teaching students without pay, and required me to pay $300 for Pearson's lucrative assessment program, otherwise known as edTPA. After all of this, I will almost certainly go into debt to fulfill the requirement to earn my master's degree within six years of teaching.
On average, educators borrow $55,800 complete their studies and still owe $58,700. Two in three young educators and more than half of black educators have had to take out loans (one in five of these black educators still owe more than $105,000.) In addition to 30 States, including Connecticut, require teachers to pass the aforementioned edTPA to obtain a license. This assessment has been shown to increase racial disparities in education. The current process creates significant barriers, especially for non-white and low-income community members. The path to certification is complicated, costly and discriminatory.
School budget austerity has contributed to creating this crisis. Our schools have been underfunded, our teachers have taken salary freezes – morale is low and students are losing teaching time that cannot be made up. Additionally, the shortage of special education teachers means that required hours for students with Individual Education Plans are not being met, a violation of the Individuals with Disabilities Education Act. We cannot afford to continue like this. If we are to address the growing shortage and the disparate educational outcomes it will cause in our district, we must invest in educators in our community now.
We have the money, the infrastructure, and the models to create a New Haven community teacher preparation program. Our city is home to an impressive community college at Gateway, an incredible education program at Southern, and Yale's short-term urban education initiative, which has covered tuition for all of its students and provided each with a $18,000 treatment. The Connecticut Office of Higher Education (which currently operates an Alternative Route to Certification program), State Department of Education, and New Haven City Hall could also expand their resources and support for this program. There is $3.1 billion in the Connecticut Rainy Day Fund and $42.3 billion in Yale's endowment. In a wealthy state and a city home to an elite university that refuses to pay property taxes, it's high time these institutions invest in our city's students, teachers, and future.
Yale's Urban Education Initiative alternated between teaching lessons and classroom time, giving students the opportunity to learn, practice, reflect, and improve. This model worked and could continue to work outside of Yale as part of the New Haven Community Teacher Preparation Program. This program could serve the residents of New Haven and in particular SNPS graduates, pay them to attend and place them in SNPS teaching residencies after their first year or before. The program could create tracks for current substitutes and paraprofessionals (jobs that are both essential to the operation of our schools and yet woefully underpaid), as well as a track for community members without a college degree to earn a BA and certification simultaneously. It should center the mentorship of current teachers, the contribution of our students and a pedagogy engaged in the community.
In 2020the Connecticut General Assembly considered a similar solution, the Senate bill 390: A law regarding the recruitment and retention of minority teachers, which would have helped black and brown teacher candidates obtain their certification, promoted the teaching profession in secondary schools and created a task force on retention and sustainability. This bill did not pass, but we can pick up where they left off, convening our own community and potential partners to imagine and implement this proposal.
We need teachers who reflect the diversity of our student population, especially black and brown SNPS graduates. Instead of making the teaching career more accessible in the midst of an unprecedented shortage, we are maintaining the barriers of undergraduate, graduate, certification programs, and retrograde assessments like the edTPA. In many cases, the people who might be best suited for the many openings in our district are not yet certified, and if these barriers persist, they may never be certified.
We have knowingly and unknowingly subscribed to the belief that these barriers to entry will ensure that only the best teachers come out certified – we are wrong. These barriers ensure that only those with the most resources can become teachers.
Soon I will be a certified teacher and it was one of the best decisions I have ever made. But the process was anything but easy. If we want to make it easier for future teachers, remove barriers to entry, and end the teacher shortage, the New Haven Community Teacher Preparation Program is a great place to start.