"We have agreed that we must remain united, focused on the best interests of Albertans and determined to do the job Albertans elected us to do."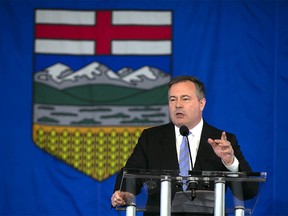 Content of the article
Jason Kenney will remain leader of the UCP until a new party leader is chosen.
Content of the article
UCP caucus chairman Nathan Neudorf released a statement Thursday evening after a six-hour caucus meeting, saying the caucus had had a "vigorous discussion" regarding the future of the party and government and had decided to affirm Kenney as leader.
"We agreed that we must remain united, focused on the best interests of Albertans and determined to do the job Albertans elected us to do," Neudorf said. "With that in mind, we have affirmed Premier Jason Kenney's continued leadership of our caucus and our government until a new leader is chosen, the timing of which will be determined by the United Conservative Party.
The caucus meeting took place the day after Kenney announced his intention to step down as leader after receiving just over 51% support in a leadership review. Kenney publicly released a letter Thursday to UCP Secretary Janis Nett confirming that intention.
Content of the article
Ahead of the rally at the McDougall Center in downtown Calgary on Thursday, Fort McMurray-Lac La Biche MLA Brian Jean, one of Kenney's loudest critics and a confirmed challenger for the top job, said said the Prime Minister must step down immediately to allow the party to begin the "healing".
"The healing process cannot begin until Jason Kenney is gone. He knows it, we know it and we have to start the process of renewing the UCP," said Jean. "Kenney knows parliamentary tradition. It would be parliamentary tradition that he resign immediately.
Ahead of the meeting, Chestermere-Strathmore MP Leela Aheer, who was critical of Kenney's leadership before she was sacked from cabinet, said Wednesday was a day of opportunity for the party.
Content of the article
"The one thing most of us wanted was to have a leadership race and be able to engage with our audience and earn back their trust," Aheer said. "I just think it's a beautiful moment for us to be able to see what's going on with all of this."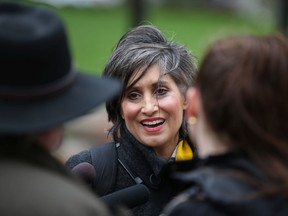 Several MPs appeared determined to have a new leader by the end of the caucus meeting, Calgary-Fish Creek MP Richard Gotfried, who criticized Kenney, saying he was willing to take the time needed to make it happen.
"I will stay here until three in the morning if we need to, to get this done. But we have to seize the opportunity now," Gotfried said. "The signal has come from Albertans, now is the time to seize this reset button opportunity and move forward boldly."
Ahead of Kenney's retention announcement, Lori Williams, a political scientist at Mount Royal University, said whoever party leader will have work to do to address concerns both inside and outside outside the party.
Content of the article
"If the UCP wants a fresh start, the sooner the better," Williams said.
Before the results of the leadership review were made public, Kenney had said he would only need a result of 50% plus one to stay, saying that was the majority in a democratic system.
Williams said that because of those comments, she was surprised to hear Kenney announce he would quit. She said she wasn't sure if he had decided to step down or if he had been persuaded by others, but that Thursday's caucus and the opposition he would face probably factored in. in the decision.
Many UCP MPs entering the McDougall Center have been tight-lipped about whether they would put themselves forward for the top job. Aheer said she thinks if she's going to be acting chief, someone else should come up with her name.
Content of the article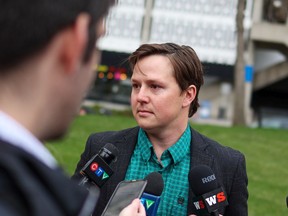 Innisfail-Sylvan Lake MPP Devin Dreeshen declined to comment, saying it was an "interesting question" when asked if he would put his name forward. He said the party has a lot of work to do and must remember that its political opponents are the NDP and not each other.
"I think the (Kenney) team was really surprised. I think they thought they had it in the bag and I think 51% it really shocked a lot of people," Dreeshen said.
Ahead of the leadership review, senior politicians took to Twitter to compare party members who disagreed with Kenney to clowns, and often slammed Jean and his fellow critic and former Wildrose leader Danielle Smith for not winning general elections in the past.
Content of the article
NDP Leader Rachel Notley said Thursday her party is united and ready to take on whoever leads the UCP in next year's provincial general election.
"Our message, regardless of who's in charge, is that we're ready. We are more than ready and it doesn't matter who ultimately leads them to the next election. The thing is, they have a record, and I'll put mine against that any day," Notley said.
Meanwhile, Smith announced again on Thursday his intention to run for the top job in the UCP. She thanked Kenney for his premiership, but called the leadership review a genuine people's resolution.
— With files from Michael Rodriguez and Brittany Gervais
dshort@postmedia.com